Our Team Development and Experiential Learning Program is a positive and powerful learning experience. Through hands-on, thought-provoking activities, our expert staff will empower your group to excel as high-functioning teams through collaborative decision-making and problem solving. Build trust, improve teamwork, shape leadership, and cultivate valuable communication skills—as a team!
The EDGE Challenge Course
What is a challenge course? A Challenge Course is a combination of mental and physical challenges that will require groups to work as a team to accomplish goals. Through a series of fun and interactive programs, participants learn valuable information about themselves, each other, and the group as a unit.
Our challenge course has several exciting and fun components that your group can take part in to develop and grow. Take a look below at our most popular features, including aerial and ground-based elements, as well as a mobile programming option.
Ground Initiatives  – encompass activities done with both feet on the ground. EDGE programs always start with these in order to get the group comfortable with the program expectations and to build a strong foundation. Ground initiatives are also great for use in a variety of settings – in
classrooms and gyms, athletic fields and forests. These are also the most accessible activities for individuals with physical limitations.
EDGE on Wheels  –EDGE on Wheels is a team building program that MOVES! We can bring programs to you on-site, year-round, indoors or outdoors.
Low Ropes Elements – These are problem-solving activities that include secure, fixed elements that bring groups up to 18 inches off the ground. These activities often include rope, wooden posts, and steel cables. This adds challenge which increases the problem solving and teamwork. Low elements can only be found on our course.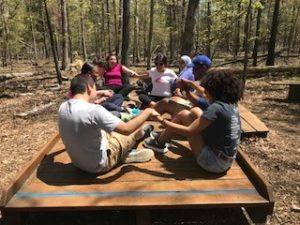 Aerial Element – Even without a zipline, we have a variety of elements that challenge individuals at heights of 15-50 feet off the ground and are considered high adventure activities. Aerial elements focus more on individual accomplishments that require team support. All aerial elements require participants to wear harnesses and helmets.